Mobile Gambling at 88Goals
Over the last decade or so, mobile gambling and the betting world have evolved tremendously. Online betting is now bigger than ever, with an untold number of betting operators springing up all over the globe.
It is now far more common for bets to be placed online than in physical venues such as betting shops or casinos, and one particular branch of the online sphere has gone through the roof in terms of popularity.
What is it that we're talking about? Yep, that's right, you guessed it, it's mobile gambling. Mobile betting is now a huge industry in its own right, with millions and millions of customers gambling and placing bets using a mobile device each and every day.
Nowadays, convenience is everything, which is why mobile gambling has become so incredibly popular. It is undoubtedly the first choice of many gamblers, and at 88goals.com, we understand that. This is why we've put in place a mobile gaming platform that can satisfy all of our users' needs.
What is Mobile Gambling?
Mobile Gambling is the term for playing games or placing bets in exchange for money on a handheld device, such as a mobile or tablet.
There are many, many forms of mobile gambling that exist in the jungle that is the modern betting world. Commonly, mobile users can play casino games, ranging from table games to slots, while they can also access a plethora of sports betting options for sports such as football, tennis, golf, horse racing, baseball and basketball.
The list of options that mobile gamers have these days doesn't end there, oh no. There are also jackpots, poker and virtuals. When it comes to mobile gambling, there is a nearly infinite list of choices.
This guide will talk you through the different kinds of mobile gambling, and look at what those may entail, plus we'll go over the mobile betting options that you can find here at 88Goals.com.
Mobile Gambling at 88Goals
We take Mobile Gambling very seriously at 88goals.com, which is why we've not only built a desktop gambling site but have worked hard to provide our players with a more than acceptable mobile betting platform too.
Available on any electronic smartphone or tablet connected to wifi, our mobile betting sites it's easy to access and, crucially, it's easy to use too.
All you need is to open the internet browser and type in 88Goals.com. On our homepage, press the Menu icon in the top left-hand corner, and a list of gambling options will slide across.
Our mobile platform holds a catalogue of betting options. From Blackjack to Basketball, Live Roulette to Premier League Football, Live Casino to Lacrosse, we've got the lot. Whatever you're looking for, you're sure to find it from our wide range of things to bet on.
Feel free to browse through the following options to see what we offer, what you might like to try and where you can find it on our mobile site.
88Goals Mobile Options
Let's take a look at the different mobile gambling options that we currently have available:
Mobile Casino
We know that mobile players enjoy Casino Games, so we've got plenty for you to choose from, including all of the traditional games that you would find should you walk into a casino, such as Roulette, Blackjack, Poker, and Baccarat. We also offer many variations of those games, with things such as French Roulette, 3d Blackjack and Turbo Blackjack.
All of our Casino Games are provided by top software companies, which means that the quality and consistency of the gameplay always remain high.
Our Mobile Casino goes far beyond just standard casino games, though. We also have hundreds of slots, including all of the major titles from top slot-game providers, such as Playstar, OneTouch, OMI Gaming, NetGame and Playson.
There are Arcade Games too, including popular titles such as Crystal Crush, Pop Drop and Giant Shark.
To find the large range of Casino Games, Slots, Jackpots, Video Slots and Arcade Games that we offer, all you need to do is select the menu button and click on Casino. You will be redirected to the list of games, all of which can be easily browsed. Whether you want popular choices or more niche casino offerings, you're sure to find them.
Live Mobile Casino
We also offer a Live Casino at 88goals.com, which means that players can enjoy playing on real casino tables in real time, all from the convenience of their own homes or wherever they may be using their mobile devices.
Because we use top Live Casino software providers such as Vivo Gaming and Bet Construct, we can offer users a wide variety of high-quality live dealer casino games. This means that they can watch live feeds of a human dealer and bet on live games such as Blackjack, Roulette and Baccarat.
From the main mobile betting menu, Live Casino is clearly displayed and easy to find. Just enter this section, and you'll see everything that we have to offer in terms of Live Casino betting.
Mobile Sports Betting
In the world of mobile gambling, sports betting may just be the most popular. If it is the first choice for you, then you should be pleased with the mobile sports betting options that we have to offer.
We provide the odds on a huge range of sports, such as: basketball, tennis, american football, just to state a few, covering a multitude of leagues, competitions and tournaments, from countries all around the world.
Our most popular sports are, naturally, sports such as soccer, horse racing, tennis and basketball, as these are typically the most bet-on sports out there. When it comes to something like football, you will find hundreds of betting markets for many, many different games.
Here is a full breakdown of the sports betting options that mobile gamers can choose from at 88goals.com:
Football, Basketball, Tennis, Volleyball, Badminton, American Football, Archery, Baseball, Ice Hockey, MMA, Handball, Freestyle Wrestling, Cricket, Table Tennis, Futsal, Snooker, Water Polo, Rugby Union, Rugby League, Darts, Boxing, Aussie Rules, Golf, Formula 1, Floorball, Cycling, Speedway, Chess and Netball.
To locate sports betting on our website, once you have the Menu on your screen, click on Sports. You will see at the top the list of sports that you can slide your finger across to discover the wide range that we offer. Likewise, you will see a list of countries if you prefer to find your chosen sport that way.
Live Sports on Mobile
Sports bettors don't just want to bet on fixtures before the action starts, especially if they're on the move using a mobile device. They want to be able to immerse themselves in the ongoing action. This is known as live betting or in-play betting. We understand the desire to bet on live sports, which is why we've put together an array of live sports betting options for players to enjoy.
We offer betting on all of the major sports, providing a wide variety of in-play markets for sports such as football, cricket, tennis, golf, basketball, ice hockey, rugby, darts, and snooker, to name just a few.
If you're looking to bet on a sporting event that is currently in progress on your mobile device, then there's a very strong chance that we've got something to offer.
From the main menu, Live Sports is clearly listed and easy to find. By clicking on this tab, you'll enter the Live Sports section, where you'll see a list of live sporting fixtures that are currently taking place. Click on any of these games to see the list of available betting options.
Mobile eSports
Short for electronic sports, eSports is essentially competitive video gaming, human versus human, and often in front of a spectator crowd, as is the case with standard sports. eSports has grown in popularity in recent years, so much so that it is now commonly bet on.
Since eSports is very similar to traditional sports, it's relatively simple to bet on. Punters can place bets on eSports such as FIFA, CS:GO, Dota 2 and League of Legends.
With these eSports, there is a variety of betting markets for punters to choose from, such as Match Result (Winner) and Total Goals bet for FIFA.
This is the full list of eSports that we currently provide betting for at 88goals.com:
eSoccer
FIFA
2k Basketball
CS:GO
Dota 2
King of Glory
League of Legends
Starcraft
Valorant
Warcraft III
Mobile Legends
To find eSports betting at 88Goals.com, select the eSports option from the Menu. at the top of the page, you can find a dropdown bar full of games. All of our eSports betting options will be listed in this area, while you can click on the eSport of your choice to see ongoing and upcoming fixtures. Clicking on the fixture of your choice will open up the betting markets for that fixture.
Mobile Virtual Sports
The betting options for mobile players go on, extending to Virtual Sports, which gives those users looking for repetitive and quick action the opportunity to get involved.
We currently offer betting on several Virtual Sports at 88goals.com. These Virtual Sports come from providers such as BetConstruct, Leap Gaming and Kiron. Our virtuals include the most popular, which is Virtual Football. Matches take place every three minutes, while we offer what may be a surprising number of betting markets for these games, such as Match Result, Handicaps, Total Goals, Asian Handicaps, Draw No Bet, First Team to Score, Team Goals and Outcome and Total Goals.
This is the full list of Virtual Sports that you will find on our mobile gambling platform:
Virtual Tennis
Virtual Football
Penalty Kicks
Virtual Football League
Drag Racing
Virtual Cycling
Virtual Horse Racing
Virtual Greyhounds
Marble Racing
From the main menu on our mobile platform, you will find Virtual Sports next to eSports and Games. Simply click to open the Virtual Sports page, where you will find all of the options.
Other
We even have further betting options that go beyond those mentioned above. For example, at 88goals.com, you can also bet on things such as Eurovision, Politics, not to mention TV Shows and Movies.
Although such things are not sports, you will find these options in the main list of sports in the Sports section. Alternatively, to find betting options such as Political betting and TV Betting on popular shows such as Let's Dance and Big Brother, you can use the search function. Just type what you're looking for into the search bar, and it will quickly appear.
Promotions for Mobile Users at 88Goals
Naturally, mobile users can benefit from all of the same promotions as desktop users at 88goals.com.
From the mobile site, simply pursue the main headings at the top of the page, where you can choose from things such as Casino, Sports and Games. Further along to the right, you will see our promotions page. This is where you will find all of the casino bonuses and free bet offers that we currently have.
Mobile Gambling FAQ
Is the Mobile site the same as the Desktop site?
Can I register using the mobile site?
Can I deposit using the mobile site?
Mobile Bonus Offers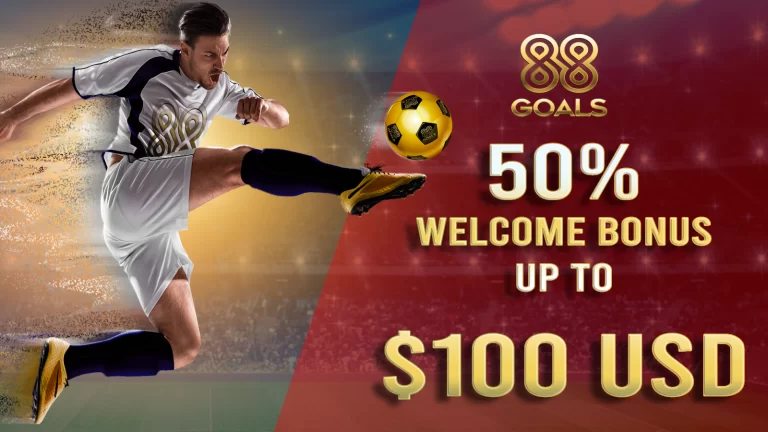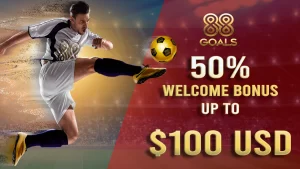 Your favourite sports matches are all here! Deposit and 88goals.com will match 50% of your First Deposit Amount with up to a $100 Bonus Bet as your Sign-Up Bonus which you may use for Sports events. Come on in, and let's get rolling!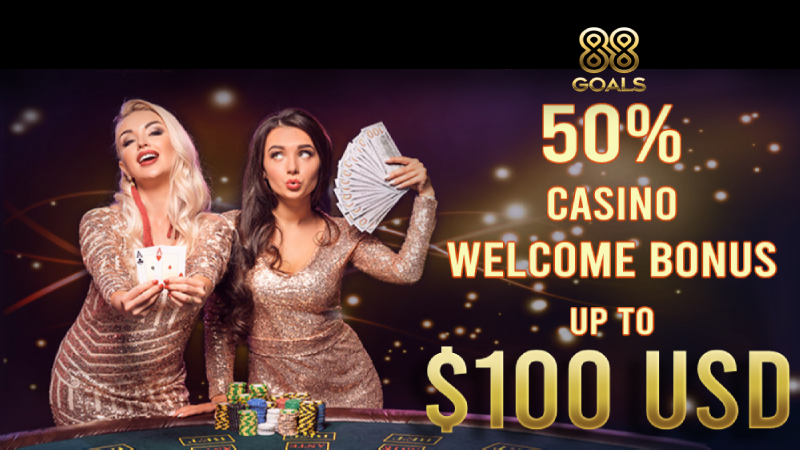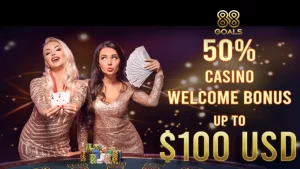 Your favourite casino games are all here! Deposit and 88goals.com will match 50% of your First Deposit Amount with up to a $100 Bonus Bet as your Sign-Up Bonus which you may use for our digital Casino games. Come on in, and let's get rolling!