Wales vs Iran Betting Preview – 25.11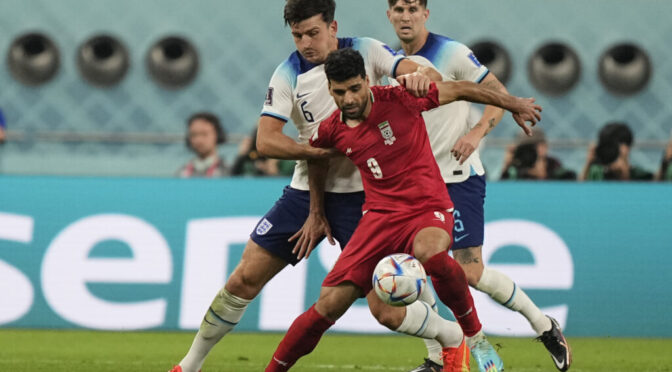 Wales and Iran will face each other in the second round. If you are looking forward to a match where the teams will fight for every square on the field, this one should certainly come to your mind. Meeting for the second time only, a lot will depend on the mastery of particular players. So gear up and read our Wales vs Iran betting preview!
Match Overview
Wales started their campaign with a 1:1 draw against the United States. Wales did not combine too much against the USA and looked for their chances primarily by crosses into the box. They did not have a lot of chances during the match, but one mistake from the US salvaged a point for Wales. Gareth Bale – the team leader, scored a penalty and grabbed a vital point. On the whole, Wales looked lacklustre.
To defeat Iran, Gareth Bale and Aaron Ramsey should play more energetically in the offence. The defence also needs some improvement. Otherwise, they will be eliminated from the World Cup earlier than expected.
Wales have no major injury concerns for the match. All important players will be starting against Iran, and this is a huge advantage over the opposing theme.
It is unlikely that anyone expected that the Iranian team would be so weak against England They were demolished 6:2. Perhaps Iran were already "burned out" because of the status of the opponent – they played the last official match against the top team four years ago in Russia (then they played in a group with Spain and Portugal).
Iran looked hopeless throughout the match. In the first half, they were trailing 3:0 and had it not been a brace from Mehdi Taremi, they would have had nothing. To maintain the chances of advancing to the playoffs, they need to win this matchup, which will be extremely difficult.
One of the major blows for Iran was losing its main goalkeeper. Because of his injury, 14 minutes were added in the first half. However, the return of Sardar Azmoun is a boost for the team.
Interesting Facts
Wales and Iran both have interesting football histories. Below you can see some interesting facts related to them:
The Wales national team reached the final stage of the World Cup for only the second time
The team's all-time leading scorer is Gareth Bale with 40 goals.
In the first match of the World Cup in Qatar, Mehdi Taremi scored twice. He is now one of the top scorers at the World Cup.
Ali Daei is Iran's all-time leading scorer with 109 goals.
Wales – Iran: H2H Matches
The two teams played only one match among themselves. Back in 1978, Wales won a friendly match with a score of 1:0. However, this is going to be the first official match. Considering that relations between these two countries are not at the highest level, it is not surprising they have not met for such a long time.
Expert Betting Tips for Wales vs Iran
A lot of people around the world await this match with great excitement. We also think that a lot could happen, so here are the best tips for the upcoming event if soccer betting is your thing!
Iran Not to Lose – 1.80
This year, the Wales team had a relatively weak start – only two wins, three draws, including a World Cup match with the USA and as many as five defeats. Of course, it should be taken into account that Wales played with worthy opponents: Poland, Belgium, the Netherlands, Austria and Ukraine. Wales managed to beat the last two teams.
In general, during this period, the team conceded 1.4 goals. Although Iran has played against lower-class opponents, they were unbeaten in six out of ten matches this year, scoring one goal and conceding 1.3 goals on average.
The current World Cup does not shine with high performance, while the teams are playing cautiously. Considering that we have approximately equal indicators in the attack and defence of Wales and Iran, we think that Iran will not lose this game.
Over 2 Goals – 1.80
This year, in Wales matches, an average of 2.5 goals is scored. As for Iran – an average of 2.3 goals. At the same time, in five out of ten past meetings of Wales, over 2.5 goals were played, and in the matches with the Iranians, this outcome was under 2.5 goals in eight out of ten cases. We assume that the national teams still have to score at least two goals.
Under 9.5 Corners – 1.65
Wales were able to have only three corners in the match with the United States, and the Iranian team, in 114 minutes of the game with England, did not have a single one. If we take the average figures for the calendar year, then in the games of Wales, on average, 8.4 corners are taken and in the matches of Iran – 7.22 corners. We suggest betting on under 9.5 corner kicks.
Under 4 Yellow Cards – 1.65
The average total of yellow cards in the matches involving Wales this year is 3.7, and in the games of Iran – 3. Given that the referee does not show more than five cards on average, we suggest betting on under four yellow cards.
Conclusion
We expect a tough and exciting match. Even though both teams will play cautiously, at some point, they will be forced to attack. This is going to be a final match for Iran, mostly. After losing heavily in the first match against England, they need to stand on their feet and show determination. Talking about the favourite is still difficult, but we think that Iran will not lose this encounter.