Online Casino Trends in 2023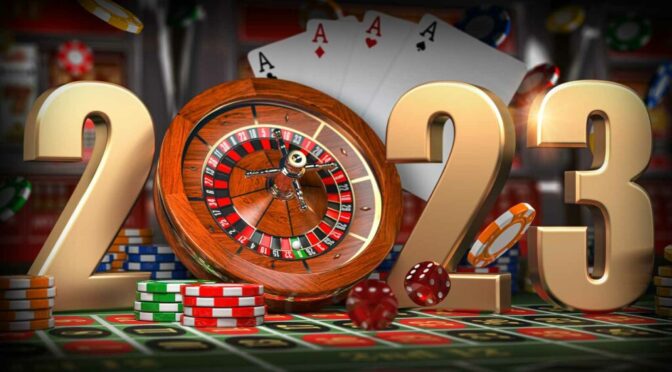 As the world of technology continues to innovate and improve daily, so do online casinos. No longer are the days of visiting your favourite gambling site and dealing with slow graphics and hard-to-navigate layouts. Instead, various improvements have made online casino gaming experiences even more realistic, from live dealer games to a wider range of payment methods.
However, is there more that can be improved in 2023? The answer is yes; many fantastic advancements are looking to make headway in 2023. If you want a sneak peek into what you can expect to see from online casinos this year, continue reading and start getting excited.
Online casinos with a focus on cryptocurrency
You can't go anywhere nowadays without hearing about cryptocurrency, and online casinos are starting to notice this. There is a wide range of popular forms of crypto, such as Bitcoin and Ethereum, and they can make the gaming experience even more thrilling.
Throughout 2023, you'll no doubt see more and more online casinos offering more choices in terms of payment options, and this will include cryptocurrency. There is also a strong prediction that more cryptocurrency-based casinos will emerge. They allow players to focus on gambling with only cryptocurrency.
Not only does cryptocurrency offer more excitement to your online gaming experience, but it also comes with tons of other advantages. You will be able to receive your winnings much more quickly in higher amounts and without any fees. However, you may need to have a bit of crypto knowledge before you get started.
Innovative technologies and quality gaming
If you were one of the unfortunate ones to try out some of the first online casinos, you'd realise how far they have come since then. Instead of waiting forever for the slot machine to spin, you'll find out if you've won the jackpot in a split second. Players appreciate these improvements, and developers continue to do what they can to improve their gaming experiences.
Online casinos are fighting to be the best, especially since so many options are available on the market. Due to this, they need to ensure they're staying up to date with the latest innovations and providing all users with excellent graphics, visuals, and sound quality on the games.
Some online casino companies are even taking things one step further with the introduction of virtual reality, like virtual sports, for example. This is built off live gaming, making you feel like you're sitting in a land-based casino. It is still early days, but we can't wait to see what some developers come up with.
Online casinos on the go
Not everyone has the joy of sitting at home each day and playing their favourite slot and table games. Some people are always on the go, so they need a way to access online casinos without needing a desktop computer. That's where the introduction of mobile apps came from, and they will undoubtedly become more popular in 2023.
While most big-name online casinos have already offered mobile apps for their sites, we will no doubt see even more companies introducing their games on the go. Since data speeds have increased and most of the population has smartphones, access is much easier.
Increase in video-streaming games
Video streaming has been around for as long as we can remember. The first platform became available in 2006 when YouTube was introduced to the public by Google, and it has only become more popular since then, now with online casinos.
Online casinos have introduced video streaming onto their platforms through live dealer games, such as blackjack and poker. Instead of playing against a random number generator, you can now play against a real-life dealer in your home. The dealer is streamed from a land-based casino, providing a more realistic experience, and we can only expect to see more of these games being introduced in 2023.
A bid farewell to land-based casinos
Land-based casinos have always been the main way people have been many of their favourite games, such as baccarat and slots. However, online casinos have become easier for people to access these games without leaving their homes. You can have all the advantages of a land-based casino but without the need for travel.
No matter where you are, you can find an online casino that meets your needs. Due to this, we predict a decline in land-based casinos and up to a 15% increase in online casino players. With more updates and innovations, players will likely sign up for a new account and stay online.
Looser restrictions on gambling in the US
In May 2018, the Supreme Court in the US allowed all states to take charge of their sports betting regulations, which paved the way for much more freedom in online casinos.
You can now find sports betting alongside various other online gambling games available to play legally in over 30 states in America. And there's no doubt that this number will continue to increase.
With these few legalisations, we will probably see more states loosen their restrictions until almost every state offers legal gambling on online casinos. We don't know if this will happen this year, but we will see.
Introduction of online casinos on smartwatches
Smartwatches are becoming gadgets everyone wants to get their hands on due to their innovative uses and portability. Online casinos have noticed this and are starting to find ways to capitalise on this option and provide their services through the small screen on Fitbits and Apple Watches.
It is still in the early phases of development, but a few online casinos have developed apps that can be used on smartwatches. Therefore, we will no doubt see more options offered throughout the year, especially since the sales of smartwatches are predicted to reach over $14 million.
Hybrid casinos
We have already briefly mentioned virtual reality in this article, and that's because it is a new form of gaming that people are starting to get more involved in. This is similar to augmented reality, providing a more realistic and authentic gaming experience.
Players can soon immerse themselves in virtual and augmented reality, which will take them directly into the slot or table game. This will make the whole experience much more enjoyable and provide something that has never been before.
Offering virtual and augmented reality creates a hybrid casino and offers something you won't find when playing traditional casino games. It will make the industry much more lucrative and introduce even more growth for online casinos.
Even more welcome bonuses
When you want to join an online casino, you can undoubtedly find a fantastic welcome bonus to take advantage of. This can include anything from free spins to bonus cash that you can use on their library of games.
Since the market of online casinos is becoming even more competitive, we believe there will be a higher number of welcome bonuses and other promotions offered to players in 2023.
Players don't have to be scared about starting at an online casino and losing their money straight away as a deposit. No deposit bonuses will enhance their initial investment and give them an opportunity to increase their bankroll for the future.
The rise of sports betting
Sports betting is one of the largest forms of gambling available in the world, consisting of 49% of the industry's total revenues. However, when the COVID-19 virus took over the world, we saw it fall due to the cancellation of some of the biggest sports tournaments and fixtures and little opportunity to place bets.
Since the world has been returning to normality over the last two years, we have seen sports betting slowly come back out on top, and we will no doubt see that continue to happen in 2023. Therefore, you better get in there as quickly as possible to make the most out of the growth before it stops.
Final thoughts
Online casinos are getting ready for many changes in the next few months, and it is pretty exciting to think about what we can expect. As the demand for improvements grows, it's great to know that these platforms are doing what they can to provide us with the ultimate user experience.
It isn't guaranteed that all of these trends will happen, as they are just forecasts, so don't take our word for it. However, looking at what happened in 2022, we have a pretty good idea of what could happen, which is how we came up with this list. Keep your eyes peeled and watch out for greatness among online casinos.