France vs Morocco Betting Preview & Tips – World Cup 2022 Semifinal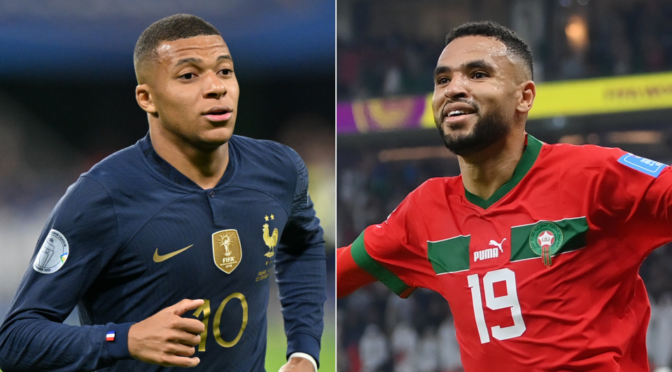 On Wednesday, we'll be getting ready to watch France vs Morocco, the last semi-final game, and we'll soon know who will be going head-to-head in the 2022 FIFA World Cup final. We already know that Argentina has taken the first spot in the final, but who will compete against them to become the newest champion? Morocco or France?
France's World Cup history
France has a fascinating history with the FIFA World Cup, especially since they have come home victorious twice during the event. They have been competing in the event since the inaugural World Cup in 1930, and their team has been a part of the tournament a total of 15 times, which is more than many other countries in the world.
France is only one of eight countries in the world that have ever won the FIFA World Cup, and out of these countries, only six of them have managed to win it on more than one occasion. France has been the champions twice, they didn't actually make it that far in their first tournament in 1930. They didn't make it past the Group Stage. However, they made it to the quarter-finals in their third attempt at the event in 1938, when it was held on their grounds, and then made third place in 1958.
In this tournament so far, France started off incredibly well with a 4-1 victory against Australia, and this luck was continued when they won 2-1 against Denmark. These two games secured them a spot in the round of 16, which means they may have lost their fight when they lost 0-1 against Tunisia. However, they managed to bounce back with a 3-1 victory against Poland and a 2-1 win against England's lions.
Morocco's World Cup history
Morocco has only competed in the FIFA World Cup a total of five times in the past. They played for the first time in 1970, and the next times were in 1986, 1994, and 1998. They then didn't qualify again for another 20 years and managed to compete in the last World Cup in 2018.
Unfortunately for Morocco, they haven't had the best luck when it comes to the World Cup. When they first competed in 1970, they didn't make it past the Group Stages and ended up coming 14th overall. Morocco only made it past the Group Stage once in 1986, but they were unfortunately cut short there and didn't make it to the quarter-finals. In the last World Cup in 2018, Morocco again was stuck in the Group Stage and lost against Iran and Portugal, and also had a draw when playing against Spain.
Morocco has had quite a bit of luck in this year's FIFA World Cup, which is surprising for the Northern African team. While they didn't manage to score at all against Croatia, it still ended in a draw. They then did much better against Belgium with a 2-0 win and finished with a 2-1 victory against Canada. Although they had a goalless draw against Spain in the round of 16, they managed to get through to this game by winning the penalty shootout. Their last game was a 1-0 win against Portugal.
France's predicted lineup
Which French players are going to fight for the chance to play in another FIFA World Cup final?
GK: Hugo Lloris – Lloris defended well against England, securing the team their spot in the semi-finals.
RB: Jules Kounde – This player has a hatred for losing and will do whatever it takes to get France to the final.
CB: Raphael Varane – Varane has claimed four Champions League winners medals in his squad.
CB: Dayot Upamecano – This defender has secured the second-fastest centre-back speed this season of 35.34km/hr.
LB: Theo Hernandez – This fantastic player is one of the three in the team who has conceded a penalty in the tournament.
CM: Aurelien Tchouameni – While Tchouameni did gain a yellow card this year, he also scored a goal when playing against England.
CM: Adrien Rabiot – He may have more fouls than any other French player, but he has also managed to avoid gaining a booking this year.
AM: Antoine Griezmann – This game will be his 74th consecutive international game, and we are sure he will make the most of it.
RW: Ousmane Dembele – He may have only played two minutes in 2018, but he has come back strong this year.
ST: Olivier Giroud – So far, Giroud has scored four World Cup goals, but will he be scoring more to get the team to the final?
LW: Kylian Mbappe – With five goals under his belt so far, we are sure he'll be providing a great performance in this game.
Morocco's predicted lineup
And which of Morocco's players will be fighting against France to secure their spot in the finals of the World Cup?
GK: Yassine Bounou – This underrated goalkeeper showed a fantastic performance when they won against Portugal.
RB: Achraf Hakimi – Hakimi is good friends with his PSG teammate, Mbappe, so playing against him in this game may be hard.
CB: Jawad El Yamiq – El Yamiq has played four matches of this tournament for Morocco and has contributed towards their success.
CB: Badr Benoun – Romain Saiss was taken off on a stretcher in the last game, so we expect Benoun will take his place.
LB: Yahya Attiyat Allah – This left-back is a great assist for many of Morocco's goals and will no doubt help in this fixture.
CM: Azzedine Ounahil – Ounahil has impressed a number of big names this tournament, including Spain's manager, Luis Enrique.
CM: Sofyan Amrabat – Amrabat has played all five of Morocco's games and has become the heart of the team.
CM: Selim Amallah – He may not have been born in Morocco, but he has proven he will fight hard for the team and help them win.
RW: Hakim Ziyech – Ziyech may have registered a large number of fouls so far, but he hasn't received a yellow card yet.
ST: Youssef En-Nesyri – Nesyri was the fourth African player to score a goal in a FIFA World Cup quarter-final game.
LW: Sofiane Boufal – He may have broken his big toe in the past, but it hasn't affected his kicking skills this tournament.
Betting tips for France vs Morocco

Odds:
France 1.53
Morocco 6.70
Draw 3.73
Bookmaker: 88Goals
2018's winners are top of the odds and have been predicted as the winners for this game. However, for most of Morocco's other games, they were lower in the odds yet still managed to come out victorious. Therefore, we can't be certain of the outcome, and we may see Morocco progress to the final for the very first time after this game.
If you're looking to place your bets, it is always safe to go with the odds and put your money on France. However, if you want to be a bit more daring and have confidence Morocco will pull through, you may want to support them, and you will see more winnings in the end. Nevertheless, we think that France will win tonight.
France vs Morocco Betting Tips:
Score Prediction: 2-0 France
France to Win @ 1.53