Betting Previews & Tips for 9 Dec – World Cup 2022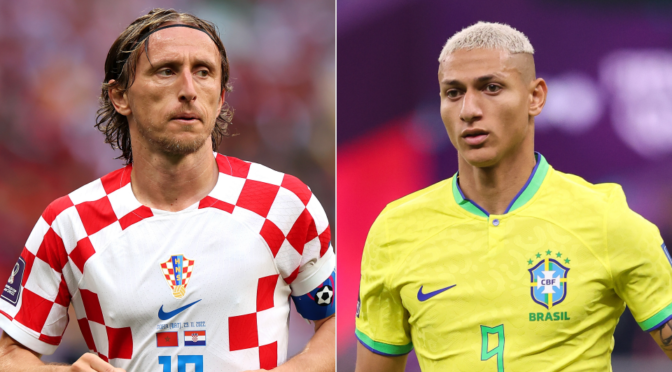 The FIFA World Cup has finally made it to the quarter-finals, and eight fantastic teams will compete to gain one of the coveted four spots in the semi-finals. The first two games are kicking off on Friday, 9th December, and we can't wait to see what is in store. Which first two teams have what it takes to advance to the next stage?
Starting off the quarter-finals and Friday's fixtures is Croatia vs Brazil, and people are anticipating to see whether Brazil will be living up to their name as the best football team in the world. Following this will be the Netherlands vs Argentina, and fans are sitting on the edge of their seats to see whether the European country will be able to make it closer to potentially winning their first World Cup.
So, which two teams are most likely to make it through to the semi-finals? We will never know for sure until we watch the game, but we can help you out with your bets by providing you with our odds and online betting predictions for each fixture.
Croatia vs Brazil
Odds:
Croatia 8.70
Brazil 1.34
Draw 4.80
Bookmaker: 88Goals
The Croatia vs Brazil fixture is kicking off the quarter-finals, and FIFA certainly isn't saving the best for last in this case. Brazil is the favourite to win the entire World Cup at the moment, so this is bound to be an exciting game to watch. Unfortunately for Croatia, they have been matched up with such an excellent team, so the odds aren't in their favour for this match. But you never know, they may be more determined than ever and show us a stronger side we haven't seen yet.
Croatia is one of the dark horses of the World Cup, and they have managed to show their skills on the football pitch. They started off the group stages with two goalless draws against Morocco and Belgium but then played extremely well against Canada and had a 4-1 victory in the end. Their last game in the round of 16 was an extremely close one, as they drew 1-1 against Japan and only got through due to the penalty shootout.
On the other hand, Brazil has shown much more promise in its previous games. They started with a 2-0 victory against Serbia, followed by a 1-0 win when they went head-to-head against Switzerland. While they fell short a bit when they lost 1-0 against Cameroon, they redeemed themselves a lot with a 4-1 victory against South Korea, moving the team into the quarter-finals.
This isn't the first time that Croatia and Brazil are coming head-to-head on the football pitch, and they have also come across each other twice in the FIFA World Cup before too. Out of the four games they have played, Brazil has won three, and the fourth ended in a draw. So far, Brazil has won all the previous World Cup fixtures against Croatia, and it appears like they could make this a hat-trick on Friday.
Unfortunately, based on past performances in this tournament and against each other, things aren't looking too positive for Croatia. Brazil has built itself up as the world champion at the moment, and they are no doubt looking to win this tournament to secure this title as well. However, they did lose against Cameroon in the group stages, so there is a slight chance Croatia may pull through.
When you're looking to place your bets, you'd be silly not to bet on Brazil since their odds are far higher than Croatia, and they have a much better playing team. If you want to introduce a bit more risk for a higher payout, we recommend betting on a draw and a penalty shootout rather than Croatia winning.
Betting Tips:
Score Prediction: 2-0 Brazil
Brazil to Win @ 1.34

Netherlands vs Argentina
Odds:
Netherlands 3.73
Argentina 2.09
Draw 3.08
Bookmaker: 88Goals
After the spectacular match against Brazil and Croatia, we'll know the first team who has secured a place in the semi-finals. But who will they be going up against? That is what we will find out when the Netherlands and Argentina go head-to-head in the second quarter-final fixture of the day. The odds are extremely close for this one, so it could turn out to be anyone's game. Therefore, there's no doubt people will be sitting on the edge of their seats waiting to see who will win.
The Netherlands went up against Senegal, Ecuador, and Qatar in the group stages, which allowed them to finish first in the standings. They secured themselves two 2-0 wins and a 1-1 draw against Ecuador before progressing to the round of 16. Luckily for them, the team performed extremely well when playing against the USA, and they were able to secure a spot in the quarter-finals with a 3-1 victory.
In the group stages, Argentina also finished first in their group's standings with six points after going up against Poland, Mexico, and Saudi Arabia. While they did succumb to one 2-1 loss against Saudi Arabia, they did bounce back after that first fixture. The final two games against Mexico and Poland then ended in a 2-0 victory. Argentina made their way to this match with a 2-1 win against Australia in the round of 16.
The two teams' performances have been extremely similar during this tournament, which has been similar in the past too. The Netherlands and Argentina have played nine fixtures against each other before, where the Netherlands has won four, Argentina has won three, and two ended in a draw. They have already played against each other five times in the FIFA World Cup, so it isn't their first time fighting to progress to the next stage.
Argentina is slightly ahead in the odds, but that may just be because they have won a FIFA World Cup in the past, and the Netherlands hasn't. Based on performance, the Netherlands has a slight advantage, so we may see either one of the teams coming out victorious at this stage.
Betting is a bit more difficult for this game, but if you want to play it safe, then we think there is a strong chance the game will end in a draw which progresses to penalty shootouts. However, you can also go for both teams to score.
Betting Tips:
Score Prediction: 1-1 Draw
Both teams to score @ 2.00