Online Casino vs Sports Betting – Pros & Cons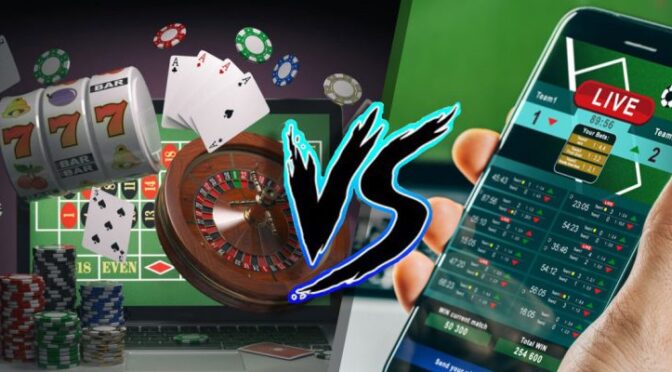 In a world where online gambling is growing rapidly, both online casinos and sports betting sites are becoming increasingly popular. Online Casino vs Sports Betting – what to choose is a question people ask.
Millions and millions of people around the world use both online casinos and sports betting sites to place bets each and every day, and the number of players continues to grow. More traffic passes through such websites than ever before.
However, if you're new to the world of online gambling, perhaps you're yet to decide which option is best for you. Maybe you're a sports bettor, maybe you're an online casino player, or maybe you'll be into both. We can help you find the best route.
In this article, we'll look at the differences between online casinos and sports betting sites, plus highlight the pros and cons of both.
Online Casino
Online casinos welcome gamblers to bet on the outcome of traditional casino games, the most popular being Roulette and Blackjack. Players no longer need to visit a casino in person, as they can now easily play these games from the comfort of their own homes.
In fact, thanks to the invention of mobile casino apps, players can get in on the action wherever they are. All they need to do is use a device, such as a tablet or mobile phone.
Lots of people like to play at online casinos, not only for the convenience or the thrill but because there are now lots of betting options. As well as table games, customers can also play online slots, jackpots and live dealer games.
Online Casino Pros & Cons
Pros
Fast-paced – with casinos, the action is never-ending, while it comes thick and fast too. This means that there's always something to bet on. Multiple games run simultaneously, and each game is over quickly, with roulette spins occurring every 2 minutes. This is different to sports betting, where punters can wait longer periods between events and can wait much longer for results.
Low skill needed – Unlike sports betting, this type of online gambling requires little to no skill as it relies on the luck of the draw. All you need is the rules of the games, and you're good to go.
Lots of perks – online casinos offer a variety of deals and offers for new and existing players, such as free spins and deposit matches.
Cons
Heavily relies on luck – it is important to keep in mind that you are betting on unknown outcomes. Unless you're an extremely lucky person or can tell the future, it's hard to stay consistent.
Odds weighted in favour of the casino – the casino has a slight mathematical edge, which means they will profit in the long term.
Self-control is needed – online casinos, for some, can be a slippery slope. Self-discipline is essential, as it is easy to pick up a gambling addiction, which can lead to serious problems such as financial loss and psychological harm.
Sports Betting
Sports betting allows you to bet on the outcome of a wide variety of sports, such as football, tennis, or greyhounds, to name a few. In fact, nowadays, the list of sports that you can bet on is endless. Online bookmakers provide odds for you to select and place your wagers, and if you win, the bookies will pay out.
Sports betting is hugely popular among sports fans. It's easy to see why, as sports betting gives bettors the chance to combine their passion for sports with the chance to make a little money.
Sports Betting Pros & Cons
Pros
Lots of betting options – online bookies today offer a multitude of sports and betting options for you to choose from. Whether you fancy the full-time score, a goal/point scorer, the correct score, combinations bets on racing, the winner of a golf tournament, or the number of runs scored in a cricket match, the options really are limitless.
Adds to the excitement of watching sports – gambling on the sports you like to watch may give you an extra thrill, especially when the outcome is near. Just imagine seeing your horse get in front near the line!
Free bets – sportsbooks offer new and existing customers free bets and other promotional offers, which means that you can often place bets for free or get boosted odds.
Cons
Addiction – it goes without saying that with gambling comes the risk of addiction. This is true of all types of gambling, but especially sports betting, as it's easy to become emotionally invested, and that's when things can easily go wrong. Bettors should always approach sports betting with caution, act responsibly and only bet with money that they can afford to lose.
Easy to lose money – sports betting can be quite confusing for novices, and therefore it is quite easy to lose money if you're unsure of what you're doing. Although the range of betting markets opens up lots of possibilities for punters, such variety also makes it complex for beginners.
Big events do not occur often – huge sporting events, such as the Grand National, Wimbledon, The Masters, The Champions League Final, or the Cheltenham Festival, are huge betting events, and they're great, but they're held only once per year. In contrast, casino action is happening all the time, year-round.
Online Casino vs Sports Betting FAQ
Is it safe to use online casinos or sports betting sites?
What is the difference between casino and sports betting?
Is online casino betting better than online sports betting?