Betting Previews & Tips for Dec 6 – World Cup 2022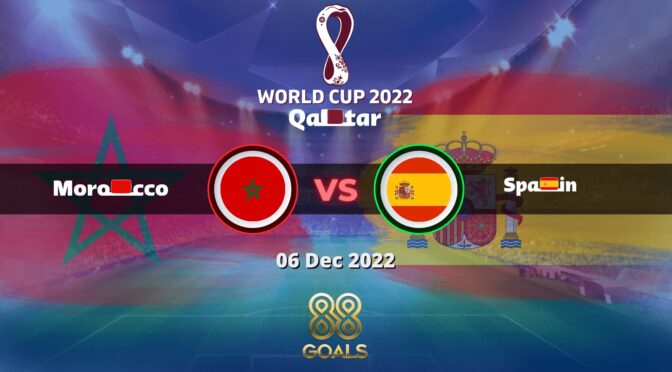 Tuesday 6th December is the last day of the round of 16 matches, and they are certainly going out with a bang. By now, we'll already know six of the teams who have made it through to the World Cup quarter-finals, and now it is time to see the last four teams battle it out for the final spaces. But who has what it takes to qualify for the next round?
Starting off Tuesday's fixtures will be Morocco vs Spain, which is bound to have people excited since Spain has been champion of the World Cup on more than one occasion. This will then be followed by Portugal vs Switzerland, which is another match that is going to turn heads since Portugal has shown us some fantastic moves on the pitch this year so far. But are the odds going to be in their favour?
So, who do we think is going to take the last two slots in the quarter-finals? Of course, many people expect neighbouring Spain and Portugal to make their way through, but with the amount of shocks we've had so far in this tournament, you can never be too sure.
Morocco vs Spain
Odds:
Morocco 6.80
Spain 1.49
Draw 3.97
Bookmaker: 88Goals
The penultimate round of 16 games will be against Spain and Morocco, which many viewers are looking forward to. Even with Spain's track record in the World Cup, they managed to finish second in the group standings, whereas Morocco finished first in theirs. Spain haven't had as much luck, but that could just mean their team will be coming back bigger and better than ever to try and get that coveted quarter-final spot. The odds are currently in Spain's favour, but this doesn't necessarily mean they will make it through.
So far, Spain has gone against Costa Rica, Germany, and Japan. Spain started off with a fantastic win when playing against Costa Rica. They managed to score seven goals in the game, while Costa Rica scored none. They were met with more resistance from Germany, ending in a 1-1 draw and unfortunately lost 2-1 to Japan in their final group stage game.
Morocco had a bit more luck than Spain in the FIFA World Cup, which is surprising for the Northern African team. They finished with the most points, a total of seven, in Group F's standings. While they didn't manage to score at all against Croatia, it still ended in a draw, gaining them one point. They then did much better against Belgium with a 2-0 win and finished with a 2-1 victory against Canada.
Although Morocco have done better than Spain so far, the odds could be in Spain's favour due to their excellent record against the Northern African team. The two teams have come face-to-face on the pitch on three occasions, and the Spanish players have managed to finish with two victories. Morocco hasn't achieved a win against Spain yet, as their third match ended in a draw. Therefore, Morocco may be on a mission to finally beat this European team.
While Spain are the favourites to win, that isn't to say that Morocco isn't going to score at all. We definitely think that they will fight as hard as they can to make it through, but Spain may just have slightly more skills needed to get that spot in the quarter-finals.
In terms of betting, we recommend going with Spain for the safest chance of securing some winnings. However, you may want to be a bit riskier and bet on a draw, where the final outcome will be decided by a penalty shootout.
Betting Tips:
Score Prediction: 1-2 Spain
Spain to Win @ 1.49

Portugal vs Switzerland
Odds:
Portugal 1.82
Switzerland 4.40
Draw 3.40
Bookmaker: 88Goals
Once we know who has come out victorious in the Spain and Morocco fixture, it is time to see who will be going up against the winner in the quarter-finals. The final game of the round of 16 games will be Portugal vs Switzerland, and the odds are similar to the previous game. While Portugal are the favourites to win and make it through to the next round, Switzerland are still pretty close, so it could potentially be anyone's game.
Portugal has managed to secure themselves two wins out of their first two games against Ghana and Uruguay. They had a close call with a 3-2 victory against Ghana, but this was followed by a huge 2-0 win against Uruguay. However, they may have appeared a bit overconfident as they didn't end the group stages as well. They finished off their last game with a 2-1 defeat against South Korea.
Switzerland may have finished second in its group standings due to goals, but they did manage to still score the same amount of points as Portugal. While Switzerland was beaten by Brazil with a 1-0 loss, they did manage to come out on top with a 1-0 victory when they went against Cameroon. They also finished on an incredible high with a 3-2 victory against Serbia, making it through to this round.
While Switzerland and Portugal finished with the same points in this tournament, they also have a similar track record in the past. They already met twice this year already in the UEFA Nations League, with Portugal winning one game with a 4-0 result and Switzerland winning the other with a 1-0 victory. They have met a total of six times over the last few decades, but they have both managed to win three times.
So, why are Portugal ahead in the odds? It is probably because of Portugal's team and the way they have moved on the pitch so far. The odds are close, but we suggest betting on Portugal if you want a safe win. However, you may earn some more money if you get a bit more daring with a draw or victory for Switzerland.
Betting Tips:
Score Prediction: 2-1 Portugal
Portugal to Win @ 1.82