Argentina vs Saudi Arabia Betting Preview – 22.11.22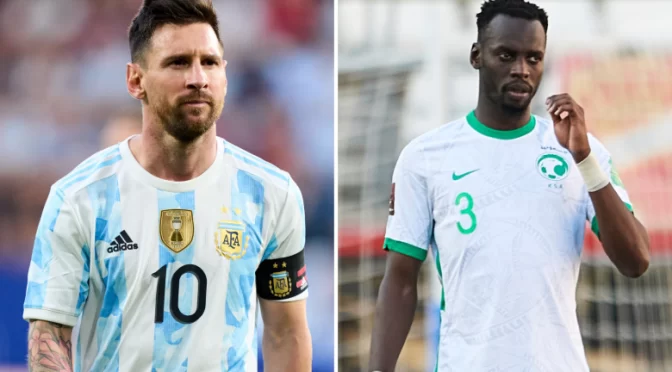 November 22, 2022, at 10 a.m. GMT, has been scheduled for the Group C match between Argentina and Saudi Arabia at the Lusail International Stadium.
This is reportedly the easiest match at the FIFA World Cup.
The matchup with Saudi Arabia must be won, but the "Albiceleste" may find their patience tested against the defensively focused Saudis.
The best Argentina vs Saudi Arabia World Cup betting picks and odds are highlighted, along with a match analysis that covers both teams.
Read on to get the best of Argentina vs Saudi Arabia with free tips that will guide you.
Argentina Team Preview
Argentina's two-time world champion team wants to enter the competition in excellent shape, and so far, in 2022, Lionel Scaloni's team has been unbeatable.
While some of the friendly matches did not accurately reflect the Argentines' strength, they did highlight the team's immense potential, particularly in the "CONMEBOL-UEFA Cup of Champions."
There was a heated match between the European champions and the Copa América champions, Italy vs Argentina.
The Italian team lost the game by 3-0
The best players from Argentina this year are unquestionably attacking. Although it doesn't feature many of the biggest names, the Argentine defence has recently been upgraded to a FIFA World Cup-winning one.
The Argentines are currently making an impression thanks to their high passing accuracy, abundance of creativity, and underrated goal-scoring attitude.
In all their international matches played so far, they have a record of scoring a total of 14 goals in just September and June. The majority of these goals were scored by Lionel Messi.
Again, for this FIFA World Cup, Messi seems to be the key player for the Argentines. Several good players can match up to his entertaining football.
There are the likes of Lautaro Martinez, who has shown great potential, among other things, by becoming one of the best strikers in the world.
Argentina FIFA World Cup 2022 Potential
Argentina has appeared in five World Cup finals overall. They left the field as winners in each of the tournaments in 1978 and 1986.
Argentina last made it to the championship game in 2014, losing to Germany only after extra time.
The "Gauchos" has promised the world that Qatar 2022 will make up for being eliminated in the round of 16 in Russia in 2018.
However, Argentina is by far the favourite in Group C of the World Cup. Nothing ought to go wrong for the group that includes Saudi Arabia, Mexico, and Poland for the team led by superstar Lionel Messi.
Argentina also has the benefit of playing Saudi Arabia in their opening game, which puts them in an immediate must-win situation and allows them to boost their confidence. Argentina's chances of winning the group are consequently slim.
Although the defensive lineup could use some work, Argentina's offence is excellent, as it has been in almost every World Cup. Even at his advanced age in football, Lionel Messi stands out and is capable of scoring both through play and outside the box, as well as scoring penalties and free kicks.
Other up-and-coming top talents, like Julián Alvarez of Manchester City, have everything it takes to shine as scorers in Qatar 2022, as is the case with Inter star Lautaro Martnez, who is also getting a better and better shape.
Argentina has an equal chance of winning the Qatar 2022 World Cup. The team led by coach Lionel Scaloni will have to play exceptionally well to advance to the Finals.
Argentina Team Current Form
Argentina does not enjoy the benefit of competing in elite "friendlies" in the UEFA Nations League, unlike the European national teams.
But as already stated, in the CONMEBOL-UEFA Cup of Champions, which pits the Copa América champion against the European champions, the Argentine eleven already demonstrated how strong their offence is.
Against Italy, Argentina had a total of 18 shots on goal. That is an astoundingly high number, especially considering Italy's historically strong defence.
In September, Argentina faced two underdogs, Honduras and Jamaica. In both matches, they won 3-0 without incident, and some intriguing details emerged.
Against Italy, Argentina had a total of 18 shots on goal. That is an astoundingly high number, especially considering Italy's historically strong defence.
In September, Argentina faced two underdogs, Honduras and Jamaica. In both matches, they won 3-0 without incident, and some intriguing details emerged:
Argentina only allowed 0.15 Expected Goals by the opposition in 180 minutes in both games.
The Argentinians' passing accuracy was very high, just like in the previous games.
Despite having relatively little possession, they generated lots of scoring opportunities.
Because he scored four of the six goals against Honduras and Jamaica, Lionel Messi is still a force to be reckoned with for the national team.
Argentina gave Honduras no chance against them; the "Gauchos" put a lot of pressure on Honduras throughout the entire game.
These performances showed confidence and dedication and can work in favour of Argentina against bigger teams.
Interesting fact: Argentina has always been regarded as a footballing nation with steel nerves. Argentina lost just once in a World Cup penalty shootout when it reached that point (in the 2006 quarterfinals against Germany). Four times, they have come out on top in the shootout.
Saudi Arabia Team Preview
On the world soccer stage, none of the Saudi Arabian team members are household names. Despite a few players having previously made brief appearances for European clubs, the entire squad makes their living in the Saudi Pro League.
Saudi Arabia's strategy is clear, especially against Argentina: the team will stand very deep and rely on a strong defence. Then, they'll use long balls to position isolated strings behind the opposition's defence.
An attacking player might be capable of outrunning the Argentine defence, but it's unlikely this will happen.
In their final games during qualifiers, Saudi Arabia played strong defence and kept clean sheets against the USA and Ecuador. The attacking statistics, however, also speak for themselves.
Saudi Arabia has been goalless in the last four matches played in the first quarter of October 2022 and has scored less than four goals in 2022 international competitions.
Saudi Arabia FIFA World Cup 2022 World Cup potential
QATAR 2022 will make it the sixth time Saudi Arabia will play in the FIFA World Cup. You cannot ignore this fact as it places Saudi Arabia as a FIFA World Cup team.
Saudi Arabia has some of the highest odds of any World Cup finals participant to win the competition, similar to Iran and Costa Rica, with odds of @751.00, according to some bookmakers.
Naturally, winning the World Cup is out of the question for the Saudis, and not just because they will be playing in neighbouring Qatar without a single player who makes his living elsewhere but because they are in a group where their opponents have more potential than them.
You could certainly envision an easier first game for Saudi Arabia, but even after that, it won't be much easier in Group C against Mexico and Poland, who are expected to compete closely for second place.
All of the teams taking on Saudi Arabia will play their best games because they know they must win. If you think about it, the Saudis winning the group is practically unthinkable under normal circumstances.
One goal for the Saudi attackers would be a noteworthy accomplishment, and it is unlikely that any of the Saudi team members will get the chance to celebrate a goal more than once.
However, Saleh Al-Shehri, who is listed here, needs to be kept an eye on because he is a skilled striker who knows where the goal is. Al-Shehri is a strong attacker for Hervé Renard's team.
Saudi Arabia Team Current Form
As of September 2022, Saudi Arabia had only won two matches in its international competition. These victories came in tight 1-0 decisions against Oman and Australia in the Asian World Cup qualifiers.
However, the results of the remaining games were rather depressing: they lost to Japan 2-0 and drew against China. They also participated in two friendlies in June, losing both by scores of 1-0 to Colombia and Venezuela.
In the two friendly games at the end of September, Saudi Arabia maintained its usual austere demeanour. The first match ended in a 0-0 draw with Ecuador, and the next match ended similarly with the USA team.
But it was pleasing to see that Saudi Arabia gave up a lot less than in the previous international games against Venezuela and Colombia. The USA, for instance, could only collect 0.47 xG against the defensively sound Saudis.
The Saudi national team struggled while playing against Ecuador, but they had the Group A team under control, especially in the first half. The last few test matches have been very encouraging because defensive stability will be the main strength for the Saudis.
Although Saudi Arabia has only conceded two goals in their last four games, the drawback is that they have only managed one goal themselves. They won't likely be able to rely solely on maintaining a 0-0 score in the challenging group that includes Argentina, Mexico, and Poland.
Fun fact: The Saudi Arabian national team has had 40 different coaches over the past 30 years. Among them are well-known coaches from around the world, like Bert van Marwijk, Frank Rijkaard, and Carlos Alberto Parreira.
Hervé Renard, a Frenchman, has been Saudi Arabia's team manager since September 2019, making him the coach with the longest tenure since Mario Zagallo 38 years ago.
Argentina vs Saudi Arabia Betting Predictions
Argentina is anticipated to be one of the World Cup's scoring teams due to one of the frontlines that are believed to be one of the most dangerous. This matchup will be interesting because Saudi Arabia, whose defence is surprisingly strong, will be their opponent.
Saudi Arabia has a history of playing games with few goals.
Argentina will be a big challenge for Saudi Arabia, who have only played against lower-ranked teams in their games over the last couple of years, so we anticipate them to give up many goals this time.
Half-Time/Full-Time Prediction
Can you imagine Argentina opening the World Cup against a team that was significantly inferior and losing the match?
Since this may be Lionel Messi's final opportunity to win a trophy, we anticipate them to play their hardest. We predict that Argentina will score first and go on to easily win the game. We choose the HT/FT to win alternative because the odds for the regular FT win are too low to be considered.
Correct Score Prediction
Argentina shouldn't have any trouble with this challenge, and based on their recent results in competitive and friendly games, we anticipate at least four goals from them. Furthermore, despite playing most of those games against stronger national teams than Saudi Arabia, Argentina has not given up a goal in 8 of their last ten games.
Conclusion
The Argentina offence is far too talented and will outclass the Green Falcons' defence, despite the possibility that they start slowly. Saudi Arabia lost to Russia in the World Cup opener after giving up five goals.
It will be wise to support the South American team in this match.
This year's World Cup final will feature Argentina, and their offence will be the reason they are there. They will wreak havoc in this game with their unmatched pace and ball-handling abilities.
You should ignore any voice prompting you to place a bet against the South American favourites, as there will be no holding back and a miracle against them in their opening match.