Denmark vs Tunisia Betting Preview – 22.11.22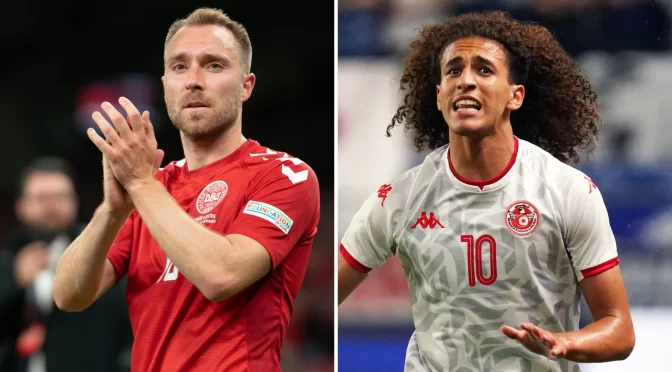 One of Europe's top teams takes on North African opposition to start their World Cup campaign, and everyone would like to know the outcome of this match.
Denmark will play in their sixth World Cup this year when they face Tunisia in their opening match on November 22 at Education City Stadium.
The Danes will try to improve on their performance from the games in 1998 when they lost to Brazil in the quarterfinals. For the first time in their country's history, Tunisia will try to get past the group stage.
After only playing each other in an informal match earlier this year, this will be the two nations' first competitive encounter (Denmark 2-1 Tunisia).
What outcome can you, therefore, anticipate for this Group D match? What are the best wagers and props for this matchup? let's find out in this Denmark vs Tunisia betting preview.
Denmark Team Preview
Team Denmark is a potential underdog for the Qatar 2022 World Cup. With odds ranging from 25–30 for the Danes to win the World Cup, only twelve other nations are more competent than the Danes.
The 2021 European Championship semifinals, where "Danish Dynamite" was eliminated, demonstrated why the Danes shouldn't be taken lightly.
Getting to the finals of Qatar 2022 is undoubtedly going to be long and difficult.
If Denmark should pull out of the group stage, they will likely have favourable draws ahead.
The strength of Denmark's knockout games was impressively demonstrated at the European Championship the previous year.
France is the overwhelming favourite to win Group D because they are the current FIFA World Cup Champions. Denmark, however, has the second-best chance of winning the group, based on the odds comparison.
In the UEFA Nations League, Denmark also triumphed over France in its most recent matchup in Paris.
So, an encounter with the Danish team in the group will be taken seriously.
The Danish team has one minor flaw: they don't have a top goal scorer as most other top teams. The burden of scoring goals in Denmark is divided amongst players, which could work in their favour or be a real setback for them.
Additionally, a few of Denmark's defensive players are extremely dangerous inside the opposition's box and frequently score, for instance, from set pieces. The odds of a World Cup top scorer from Denmark are very high because the Danish national team does not have a target goal scorer such as Harry Kane, Kylian Mbappe, or Sadio Mane.
The two attackers, Andreas Cornelius and Kasper Dolberg, have the best chances, but typically only one of the team's two centre forwards will play. Even more, pronounced outsider roles are given to players like Skov Olsen, Wind, or Eriksen.
Denmark Team Current Form
Denmark showed extreme confidence in the first half of 2022 and delivered dynamic performances and occasionally unexpected results. In the UEFA Nations League, they lost to Croatia at home but defeated France away in Paris.
However, the performances were impressive across the board, not just in the Nations League. They participated in nine straight FIFA World Cup qualifying matches in 2021 without losing a single point, and they also went eight games without conceding any goals.
Denmark quickly overcame the shock of Christian Eriksen's cardiac arrest at the 2021 European Championship, eliminating Wales and the Czech Republic in the knockout round, with their only loss to England in the semifinals.
With a victory over France in September, Denmark also finished first in its UEFA Nations League group. With the 2-0 victory over the defending champions.
Denmark has now gone four competitive games without dropping a game to France.
Oddly enough, Croatia defeated Denmark twice in the Nations League, the only other team to do so.
While they managed to defeat France once more in September, they lost to Croatia in the Nations League for the second time.
It is striking how Denmark struggles against the powerful Croatians, even if one or more key players were substituted or benched during the game. The Danes appear to perform better against bigger opponents than they do against teams with a strong technique-based game plan.
The fact remains that, in Qatar 2022, few teams are more promising than Denmark. This team arguably has more upside potential than the previous one because it has found itself, is balanced and is connected like a family.
Fun fact: Denmark won the European Championship game with only eight players. Then it was in war-torn Yugoslavia.
Most of the players were called from their vacation, so there was not much pressure on them during the selection process.
Tunisia Team Preview
Tunisia is taking part in a final round for the sixth time in 2022; in their previous appearances, they never advanced past the group stage.
This is again highly unlikely because Group D this year has two undisputed favourites in France and Denmark.
However, anything is possible if the Tunisians manage to overcome this challenging group. But it also makes sense that Tunisia has absurdly high odds of reaching the FIFA World Cup.
Due to the presence of France, Group D is not going to be an easy group for the Tunisian national team. Since many Tunisian team members were born in France, the matchup with the French is essentially a brotherly duel.
But if they want to win the group after three games, there will be no getting around France. Of course, Tunisia will need to play three flawless games if they want to have any chance of making this happen.
Two Tunisian attackers are currently available on bookmarkers' list of the World Cup's top scorers. Wahbi Khazri (Montpellier striker) and Youssef Msakni
Msakni has played consistently in Qatar since 2013, except for a brief loan in Belgium. There, he has consistently proven to be a top goal scorer.
In addition, he has already played in more international matches than the Montpellier striker Khazri, who is also a very seasoned player. However, if one of the two offensive players even came close to taking home the Golden Boot, it would be the biggest unimaginable sensations
Tunisia Team's current form
When it comes to international matches, the Tunisian national teams have the experience. In the first quarter of 2022, they played eleven international games. Tunisia lost only three games and conceded three goals in all eleven matches.
All three defeats were to Mali, Gambia, and Burkina Faso in the preliminary round and quarterfinals of the 2022 Africa Cup, respectively. Tunisia did not concede in any of their other international games during the first half of 2022, demonstrating their excellent defensive organization.
Following that, they exacted revenge in Mali in a decisive World Cup qualifying round. They defeated the Malians, who were heavily favoured, 1-0 in the first leg of an away match.
They managed a goalless draw in the home game four days later, earning them a World Cup ticket.
Mali was the superior team despite playing almost an hour longer than their opponent in the first leg of the World Cup playoff. However, Tunisia made the necessary preparations and prevailed.
Tunisia's capacity for high goal-scoring capability was demonstrated in their matches (at the Kirin Cup in Japan) in June.
First came a 2-0 victory over Chile, then came a completely unexpected 3-0 victory over Japan.
Though three of Tunisia's four shots on goal were "on target", they weren't the superior team in their 3-0 victory over Japan at the Kirin Cup.
In September, Tunisia received international awareness by defeating Comoros and losing to the Brazilian team 5-1.
Tunisia was fortunate not to collapse completely under the wheels when facing the Brazilian.
The heavily favoured Brazilian team was already clearly in the lead with a score of 4-1 after 40 minutes. Dylan Bronn, a Tunisian centre-back, was dismissed shortly after that.
Fun fact: Most of the current Tunisia team was not born there. Most of the few foreign-born players made their debuts in France, but there are also players on the Tunisian team who were born in Germany, Denmark, or Sweden.
Denmark vs Tunisia Betting Tips
The Denmark defence is a strong one and rarely concedes goals. However, given this is a FIFA World Cup, anything can be expected to happen.
Tunisia is a team packed with surprises and the potential to score many goals. With outstanding performances against teams like Chile and Japan in recent months, you should expect Tunisia to put in one or two goals.
Match outcome prediction
You should anticipate Tunisia to score one only. As seen by their recent United Nations performances, Denmark should be able to score twice in this game.
They defeated France twice thanks to their two goals against them, and we also witnessed victories over Austria twice. Denmark is a capable team that could easily advance to the competition's later rounds.
Correct Score Prediction
Despite having a good team, Denmark's team is not the goal-scoring type. In recent months and years, most of their victories have been 2:1 or 2:0.
We believe that a 2:1 scoreline is the ideal outcome you should consider betting on this game, given that Tunisia is now a serious national team and has already shown flashes of their talent.
You should not anticipate more than two goals from Denmark because Tunisia has a strong defence.
Who will win half-time and full-time?
While you should not doubt that Tunisia will play their best in this upcoming group-stage match, there is a very high likelihood that Denmark might very well end up winning both halves of the game. You should consider Denmark, as the odds are particularly favourable and logical.
Denmark vs Tunisia in Conclusion
Denmark vs Tunisia is not going to be one easy one and may be the most difficult one in Group D. However, Denmark has a clear physical advantage over Tunisia, and team manager Kasper Hjulmand's team will cleverly take advantage of this.
As a result, you should predict that Denmark will win this group's opening game. With high expectations competing, "Danish Dynamite" will want to make them very clear in the opening match. The favourite won't try to hide here; instead, they'll take charge right away and put a lot of pressure on the opposition.