England vs Iran Betting Preview – 21.11.22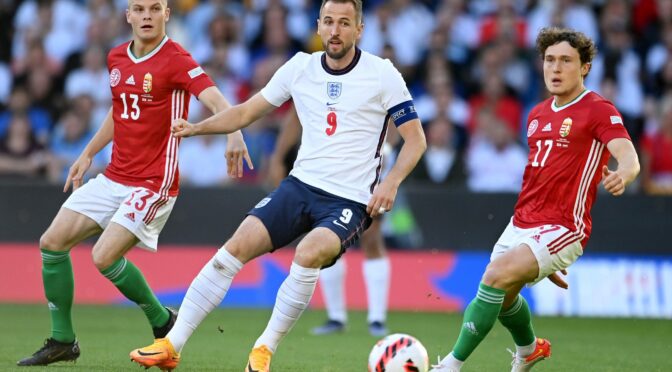 England vs Iran is a Group B match that will take place on November 21st, 2022, at the Khalifa International Stadium (Al-Rayyan).
Looking at this game, you will not be surprised to learn that England is favoured to win. Regardless of this fact, you should not consider the Iranians as a walkover. Everything points to the English favourite getting their 3 points from Iran.
We will give you free betting tips and help fans who want to bet in-depth statistics and analysis on individual teams and a detailed betting preview of England vs Iran.
England vs Iran Preview
Looking at the opening match of Group B, you will most likely say to yourself that this is a sure win and a sure bet in favour of England. Bear in mind that these two teams have never played against each other in any big competition, and this is the sixth major tournament the Asian team is qualifying for.
As one of the favourites, England's first match against Iran is likely to be an early example of what bookmakers will label as a WC 2022 sure bet. These two teams have never met in a senior international before, but this is the sixth tournament in which Iran has qualified.
When you are seeded, you have the advantage of avoiding the big teams. The majority of the first seeds are well pleased with the groups they are placed in. They have one objective in mind at that time. " Let us get out of this group, and then we take on whatever by the horns".
Iran made it to the world cup after beating their rivals Iraq in a playoff. The English team went on to qualify with ten unbeaten games, winning eight while conceding just three goals.
England Team Preview
England is widely regarded as one of the favourites and my personal favourite to win the World Cup.
In 2018, the English team successfully scaled through to the semifinals and lost to Italy in the European Championship in 2021. After reading this, you will regard the English team as a formidable one.
For England, winning is the goal. It is the only goal.
The pressure on the team is undoubtedly a disadvantage for the English now. The general public and fans expect a strong tournament, and they must deliver on that promise.
The English coach Gareth Southgate has promised the world that England will bring to the pitch a strong central midfield and excellent forward and attacking player, all with proper control and caution.
Coach Gareth has prepared his team to avoid conceding goals by using a firm three-man backline and wide defensive line.
England Team Current Form
After winning their last two friendlies against Switzerland (2-1) and Côte d'Ivoire (3-0) in March 2022, England went on an alarmingly poor run in the UEFA Nations League in June 2022. The first defeat was a 1-0 loss in Hungary, and two draws against Germany and Italy.
Again, with the Hungarian side, England suffered a huge 4-0 in Wolverhampton. This is currently the only biggest humiliation so far in 2022.
Fun fact: 114 years ago, England beat Hungary 7-0, one of the most shameful defeats for the Hungarian side. In 1954, Hungary returned the favour and won 7-1 in Budapest.
At the end of September, England's losing campaign continued at the UEFA Nations League, with a 1-0 loss to Italy.
Following that was what would have been a remarkable match, with six goals scored in the second half. Shaw, Mount, and Kane turned a 2-0 deficit into a 3-2 lead before a costly error by substitute goalkeeper Nick Pope.
England showed superiority in the game, particularly in the second half against Germany. However, it was not enough to secure a win.
Of course, Pope will be relieved that he made that error in the Nations League rather than the FIFA World Cup.
Be sure to watch out for Pope in the FIFA world cup and know how to place your bets.
Iran Team Review
The Iranians are one of the biggest underdogs heading into the 2022 World Cup in Qatar.
This year marks Iran's sixth FIFA World Cup appearance. The country changed team managers on September 7, which is unusual, being so close to a major tournament.
Iran also faces the issue of not being adequately challenged in Asian World Cup qualifiers. They play against small country teams with whom they have no trouble.
However, when world-class opponents arrive at a major event, Iran is frequently unequipped to deal with a significant increase in quality.
However, the Iranian team's talent should not be underestimated. While their defence is more collective, they have two top-tier strikers, Sardar Azmoun and Mehdi Taremi, who both should never be underestimated.
Iran Team Current Form
The poor pre-tournament and qualifiers games sparked unrest in Iran and raised questions about Croatian coach Dragan Skocic's competence. They suffered a defeat against South Korea and struggled to secure victories over teams like UAE, Iraq, and Lebanon in the qualifying campaign.
The Iranian federation was finally persuaded to reconsider after a friendly match in June 2022. The team lost 1-2 to Algeria. Skocic, then Coach, was fired after a few months and was replaced by Carlos Queiroz.
In 2022 Iran had two friendly matches in September, which showed the seriousness of the Asia side as they achieved a real feat.
The first was a 1-0 win against Uruguay and a 1-1 tie against Senegal. The goal scorers were Mehdi Taremi and Sardar Azmoun, two of the team's top strikers, who we have stated should not be underestimated.
England vs Iran Betting Predictions
Of course, friendly matches can not be compared to the situation in a major competition, but opponents should be warned not to lose sight of the Iranian offensive line. This analysis should make you move to bet on both teams to score.
The chances of any England vs Iran betting prediction favouring the Asian Confederation qualifiers are probably slim; however, there have been several shocks in previous tournaments where smaller teams like Iran won the game.
They have never advanced beyond the group stages of their previous World Cups, but if England underestimates them, it is not unreasonable for some well-informed observers to predict a surprise.
You would want to choose one of these options as a bet on cards, more than three goals, or a potential win for the English side, due to the promise made by their coach not to concede goals and aim for winning no matter what.
Correct Score
You should expect England to win with few goals. As a result, the heavy favourites' only options are a 1-0 or 2-0, 3-0, or 3-1 win.
England will eventually break through the Iranian defence and score.
As a result, you should be betting on England to win with the above correct score options and with the player-to-score options on the best-attacking players like Harry Kane and Raheem Sterling.
Captain Kane would also be a good bet for the first goal scorer in the match, especially since he is England's regular penalty taker.
Over/Under
Several factors must be considered when predicting goals for this match.
First, this is both teams' first World Cup match, and it cannot be accurately predicted how good their form will be. England's strategy under Coach Gareth Southgate has promised a defence like never before
The English are only interested in gaining three points.
They are unbothered if these points come from three goals or more.
Lastly, against a team like England, the Iranians will be forced to stand back and absorb the English attack while trying to mount their counterattack. This mechanism will give the English more attack and concentration to score goals.
Conclusion
Although this is the first time the two teams are meeting each other, it is safe to assume both teams are ready to wow us with their opening performances.
This will no doubt be a scoring match and may well be coming from one side. But like earlier stated, this will not be the first time a small team will surprise the world by securing three points from one of the big teams. That is the game of football.
FAQ
Is Iran capable of scoring?
The team's attack features some of Iran's biggest stars. Iran's best-known players are FC Porto striker Mehdi Taremi and Bayer Leverkusen's powerful attacker Sardar Azmoun. You might want to bet a goal from each of these strikers.
Who are the players to watch out for in England?
Harry Kane, England's captain and target man, is the sole striker for the game. Then there are other dangerous players such as Rice, Mount, Foden, and Bellingham in midfield, Grealish, Sterling, and Saka in attack, and the likes of Alexander-Arnold and James at full-back.
What are the safest betting tips to follow?
You must keep in mind that this is the opening match for Group B. Hence both teams might bring in more than expected, and the game may not be one-sided after all.