USA vs Wales Betting Preview – 21.11.22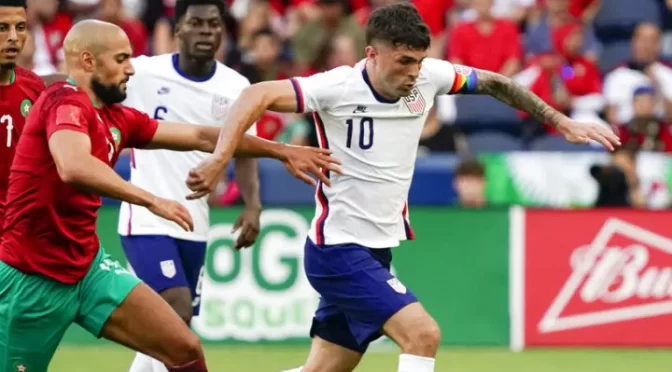 Wales will play the USA in the opening match on Tuesday, November 22. After a losing streak in their most recent games, the Yanks and the Dragons finally make an appearance.
On November 21, 2022, at 7 p.m. GMT, the United States of America and Wales will play in a Group B match at the Ahmed bin Ali Stadium in al-Rayyan.
Read this USA vs Wales betting preview for free tips and betting predictions. The two teams are considered Group B's most competitive rivals for second place. Be rest assured that you will have a run for your money in this match.
USA Team Preview
Despite starting with its finest attacking players, the USA lost 2-0 to Japan and ended up with a goalless draw with Saudi Arabia in the September friendlies. Players like Pulisic and Pepi all started against Saudi Arabia. Tillman and Aaronson were also substituted. Yet a win was far from them.
It was especially disappointing that, despite consistently having more possession than their opponents, the Americans could not deliver as expected.
Quite frankly, this is a huge problem in betting analysis. This clearly says they are unable to produce match solutions with the ball.
Of course, this could be a problem against Wales, who are also thought to be a team that strives to be extremely solid, especially defensively, to move quickly on the counterattack.
The USA got their ticket to the FIFA World Cup by finishing third in the qualifying round. Unlike other teams so far in the group, the qualification came by goal difference.
The United States is a very high-spirited team as far as the FIFA World Cup is concerned. But being highly motivated is not enough to earn you a place on the group stage. You need to be able to crack and open your opponents' defences.
USA Team Current Form
The United States competed in the CONCACAF Nations League as recently as June 2022, with teams such as El Salvador and Grenada. These fixtures draw attention to the issues the United States is having as a member of the North American Union.
Grenada had almost no gameplay against the USA team because they outplayed them the entire game.
In this federation, the USA is generally not sufficiently contested. The United States CONCACAF opponents are probably Mexico, Canada, and, to a lesser extent, Panama. The United States may enjoy significant victories against weak opposition like Grenada or other small states, but we know that does not improve the quality of your team. Efficiency in football must be tested against bigger teams.
In a major tournament, the USA team plays below expectation, or should I say as expected, against bigger teams. They frequently commit avoidable errors, as demonstrated by their 2-0 losses to Canada and Costa Rica during the FIFA World Cup qualifying matches. Therefore, the Americans' lack of internal pressure may cause them to falter at a significant international event such as the FIFA 2022 World Cup.
In September, the USA did give a surprise and performed excellently over the spring and summer but came back to their old self in the exhibition matches against Japan and Saudi Arabia.
The United States struggled to come up with solutions and didn't appear to have a perfect 4-3-3 formation. As they prepare for the FIFA 2022 World Cup, coach Gregg Berhalter has promised to provide a strong starting eleven.
Wales Team Preview
When it comes to international football, the Welsh team is highly experienced. They are currently out of shape, and defensively they are not as strong as in previous years.
Wales' three-man backline, which expands to a five-man chain when the team moves backwards, continues to be used. The team's objective is to win deep-positional balls and then quickly counterattack, which I think is an outdated pattern of football and also gives the opposition too many opportunities to get goals.
Wales has had less possession than their opponents in every international game, except for the match against Poland on September 25, in which they lost 1-0.
Because they take many chances when moving forward to get past the midfield and quickly set up the strikers, the Welsh team has poor passing accuracy.
This has not proven to be very effective thus far in 2022, and it is currently unknown how successfully the Welsh team's former philosophy can be applied to this squad.
Wales Team Current Form
Gareth Bale set a record by steering his team to a razor-thin 1-0 victory over Ukraine to advance to the World Cup. The team did not, however, continue to dazzle as they finished last in their Nations League group.
Wales only managed a 1-1 draw against Belgium during that campaign, giving up five victories out of six attempts.
Wales has won the two most crucial matches of the 2022 international qualifying campaign so far: victories over Austria and Ukraine in the World Cup playoff. But aside from that, they were never successful in the first quarter of 2022.
Wales only managed one point from four games in the UEFA Nations League, but they also experienced some major bad luck. They suffered 2-1 defeats in Poland and the Netherlands but managed a creditable 1-1 draw against Belgium at home. Gareth Bale made it 2-2 after 92 minutes in the away match in the Netherlands, but the effort was for nothing as Memphis Depay scored one minute later.
For the Welsh, the last half of the year also got off to a rough start. The UEFA Nations League came to an end for the Welsh side with two more losses and relegation to Group B. After the anticipated 2-1 loss at the hands of Belgium, a needless 1-0 loss to Poland occurred at home.
Wales utilized a 3-4-2-1 formation, as they frequently do, but struggled to contend with the superior teams, especially when in possession. Gareth Bale, an ageing superstar, is not in the same shape he was.
Wales' capabilities were tested by Belgium, who defeated them 2-1 after an earlier 1-1 draw at home.
Their total of just one point from six games is disappointing, even though they were unquestionably the underdogs in their Nations League group alongside Belgium, the Netherlands, and Poland.
Wales' sole friendlies in 2022 ended in a March 1-1 draw with the Czech Republic. As of October 2022, the Welsh had won just two of the previous ten international games, despite these being the most crucial.
USA vs Wales Match predictions
Draw
The USA recently had a long home winning streak, but they don't have that advantage this time. The Yankees have lost four of their last seven away games and are winless in those games. Wales also had a terrible Nations League season in the past, losing all six of their games. Additionally, the Dragons have failed their last three tries in a row. We, therefore, expect a draw because there is an equal level of competition here.
Both Team to Score
Wales had a lengthy scoring streak before the most recent game and had only one attempt this calendar year in which they failed to score. However, the defence doesn't seem to be working.
In previous friendlies, the USA had failed to score, but in CONCACAF Nations League, they did. In one of the two head-to-head matches, the Stars and Stripes also contributed to the scoring. Given this, our next prediction for this game will be "Both teams to score."
Over/Under Goals
Nobody anticipates a high number of goals in this United States vs Wales game. There are several causes for this.
Wales will hand the ball over to the USA and attempt a quick counter. This gameplay will give possession to the USA team.
However, the U.S. is having difficulty making wise choices and coming up with solutions – particularly when playing teams that frequently play more defensively.
Also, the progression to the round of 16 depends on the outcome of this early-key match. Before the tournament, every bookmaker viewed the USA and Wales as nearly equal, and it was anticipated that these two teams would compete for second place behind England.
Therefore, it is unlikely that these teams will score much. For this reason, you should bet on fewer goals for this November 21st match.
USA vs Wales Team Comparison
Team USA
Excellent potential, especially in the area of attack.
Powerful and astute central midfield.
Team Wales
Gareth Bale excels at competitions, some key players have Premier League experience, and the team is physically strong and aggressive. The USA is currently having trouble coming up with strategies to counter deep-lying teams.
Conclusion
The American team is superior on every level.
Wales will keep the score close and competitive even though the United States will win this game. Regardless of the odds being favourable to the USA team, watch out for Gareth Bale, as he may again take charge and sneak past the defence of the USA team.
It is advisable that you bet on goals or take a risk and go for a straight win.