Argentina vs Mexico Betting Preview – 26.11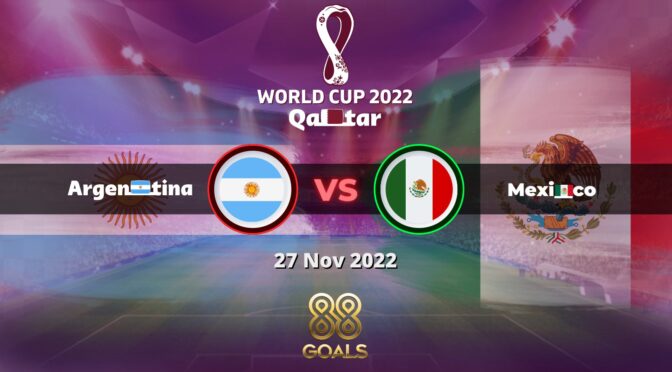 After a sensational loss in the first round against Saudi Arabia, Argentina need to win the second match to maintain its chances of advancing into the round of 16. This is a classic encounter between Argentina and Mexico, and we anticipate a thrilling game. Read our Argentina vs Mexico betting preview for betting tips and information about this game!
Match Overview
In the opening round of the 2022 World Cup, Messi and the company unexpectedly lost to modest Saudi Arabia with a score of 1:2. Although they scored first already in the 10th minute of the match, it was not enough. Coming out of the break, the South Americans failed the starting period of the second half, in which they conceded two goals within 8 minutes of the start. As a result, after the first round, Argentina take the last place in the group.
While they scored three goals in the first half, they were disallowed due to the offside rule. Even when they were trailing against their opponents, Argentina did not manage to create chances. Saudi Arabia won deservedly, and now Argentina are in a very tough situation.
At the 2022 World Cup, the Mexicans qualified quite confidently, where at the third stage of qualification in North and Central America, they took 2nd place in the group. Only Canada was ahead in standings, which, with an equal number of points, took 1st place due to the best additional indicators.
Mexico currently shares 2nd place with Poland, with which they achieved a goalless draw (0:0) in the first-round match. The Mexicans could have conceded a goal at the beginning of the second half, but the team's goalkeeper Guillermo Ochoa saved a penalty from Robert Lewandowski.
Interesting Facts
With Argentina and Mexico being one of the most interesting encounters, here we prepared interesting facts for you:
Argentina have won 5 of their last six matches.
In the last five matches, the Mexicans have scored an average of 1.5 goals per game.
The Mexican national team scored in 4 of the last five matches played
Mexico have only won one of their last four matches.
Argentina vs Mexico: H2H Matches
Argentina and Mexico have met each other 16 times. The first encounter was recorded in 1930, in which Argentina won 6:3. No wonder, Argentina have the advantage in the matches played. The last match held in a friendly game also ended with Argentina winning the match.
Argentina vs Mexico Expert Betting Tips
We have prepared the best betting tips for players. Here you can check some of them:
Argentina to Win – 1.60
Everyone understands how important this game is for Messi's legacy right now. A world-famous football player wants to lead his team to the championship, but risks not even advancing to the round of 16 will be detrimental. This will be a strong blow to Leo's reputation, not to mention the wave of haters.
But Mexico is a convenient contender for rehabilitation after a failure at the start. Moreover, Argentina did not have enough luck in the game with Saudi Arabia. Argentina and Mexico have met three times in the past four years, all in friendly matches, but Argentina have won each meeting. If Argentina do not win this game, it will be all over. Therefore we advise taking a bet on Argentina to win.
Mexico to Score a Goal – 1.55
This year, the Argentina national team played ten matches and scored at least twice in seven of them (70%). But the Mexicans, in turn, did not allow opponents to score more than one goal in 13 out of 16 past games (81%). In two of the last three face-to-face meetings, Argentina did not score more than two goals against Mexico. Mexico here may well play on defence and try to resist the opponent, hoping to get points with more convenient rivals in the group. We bet on Mexico to score at least a goal.
Over 8.5 Corner Kicks – 1.65
With corners, everything is almost equal with both teams. Argentina have won by this indicator in seven out of ten matches (70%) this year, taking an average of 4.6 corners. Mexico have won 12 out of 16 times (75%), earning an average of 5.44 corners per game. Given these statistics, we can consider a bet on over 8.5 corners.
Mexico to Have More Yellow Cards – 1.85
Argentina did not receive a single card in the match with Saudi Arabia. In turn, Saudi Arabia received six yellow cards. However, it would seem the situation unfolded in such a way that Argentina should have received more yellow cards. But discipline did not disappoint.
As for Mexico, they earned more yellow cards than Poland in the first round. If we take the average figures for the current year, then the Argentina national team receives 1.1 yellow cards per match, and Mexico – 1.27. The Mexicans have a little more chance to win in terms of yellow cards, and we think Mexico will have more cards.
Lionel Messi to Score Any Time – 2.20
Lionel Messi managed to score in the first match against Saudi Arabia. If he is determined to get the World Cup title, he should do everything. Therefore, we anticipate that Messi will score a goal against Mexico. He did not look well in the first match, even though he scored a goal, but in the second round, everything will be different.
Conclusion
Argentina are obliged to win the second match if they wish to maintain the chances of advancing to the next round. We think they will win this game, but not everything will be so easy, considering Mexico will fight until the end.