Betting Previews & Tips for Nov 30 – World Cup 2022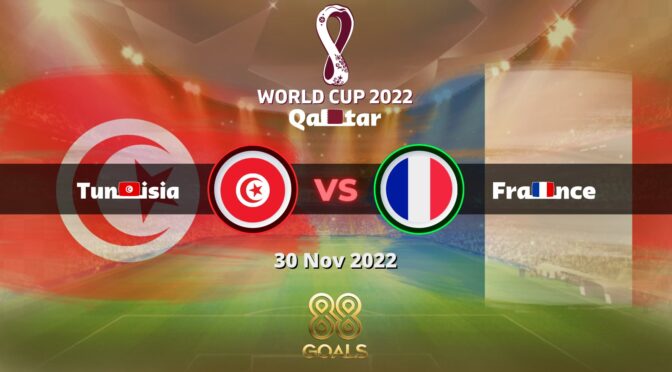 As the FIFA World Cup continues and we get towards the end of the group stages, we have another four exciting games to watch and bet on this Wednesday. Two teams have already gone through to the round of 16, so we're now getting ready to find out which other two teams will be joining them from Group C and Group D.
Kicking off today's games will be Tunisia vs France and Australia vs Denmark; the two games will be going on at the same time. Not long after, we'll be able to sit back and watch the results of both the Poland vs Argentina and Saudi Arabia vs Mexico games.
So, which ones will you be watching? Or will you be putting your bets on all of them? If you want to take the chance to come home with some great winnings, you may want to know a bit more about the expected outcome of each of the games. Continue reading to discover what the odds are saying and who is most likely to make it through to the knockout round.
Tunisia vs France
Odds:
Tunisia 8.40
France 1.35
Draw 4.80
One of the games starting off Wednesday's FIFA World Cup group stage games is Group D's Tunisia versus France match. With France having an excellent track record in the tournament's history and being the reigning champions, it will be an exciting game, especially since France has already won their last two games and Tunisia hasn't been as lucky.
Each of the teams has previously played against Australia and Denmark. France managed to win with a whopping 4-1 against Australia in their first game and then came out victorious again with a 2-1 win when they went against Denmark.
Tunisia, on the other hand, hasn't been so fortunate. They haven't actually managed to score a single goal this World Cup, meaning they lost against Australia and drew against Denmark when neither team managed to get a goal.
Therefore, it is pretty much confirmed that France will come out on top and make it through to the round of 16, especially since they are at the top of Group D with 6 points. Unless Tunisia makes an extreme comeback and manages to win this game, there is very little chance of them making it through to the next stage. This may affect their performance as they know that there isn't much they can do to get to the knockout round. But with the outcome of some of the games this year, we can't say this will never happen.
Tunisia and France have come head to head five times in the past, but each of them has only been friendly games. Tunisia managed a 2-1 win against France in 1971, but since then, they haven't managed to jump back. This can also be unnerving for the team, but they may be more determined than ever to prove that they can finally beat France.
While Tunisia hasn't scored at all this tournament, and France has one of the highest goal counts in the World Cup so far, that isn't to say that Tunisia won't score at all. They have managed to score four out of five times they have played against France before, so hopefully, they can redeem themselves a little on Wednesday.
It may be optimistic to think Tunisia can win this game, so if you want to be safe with your bets, you will most likely come home with winnings if you back France.
Betting Tips:
Score Prediction: 0-3 France
France to Win @ 1.35
Australia vs Denmark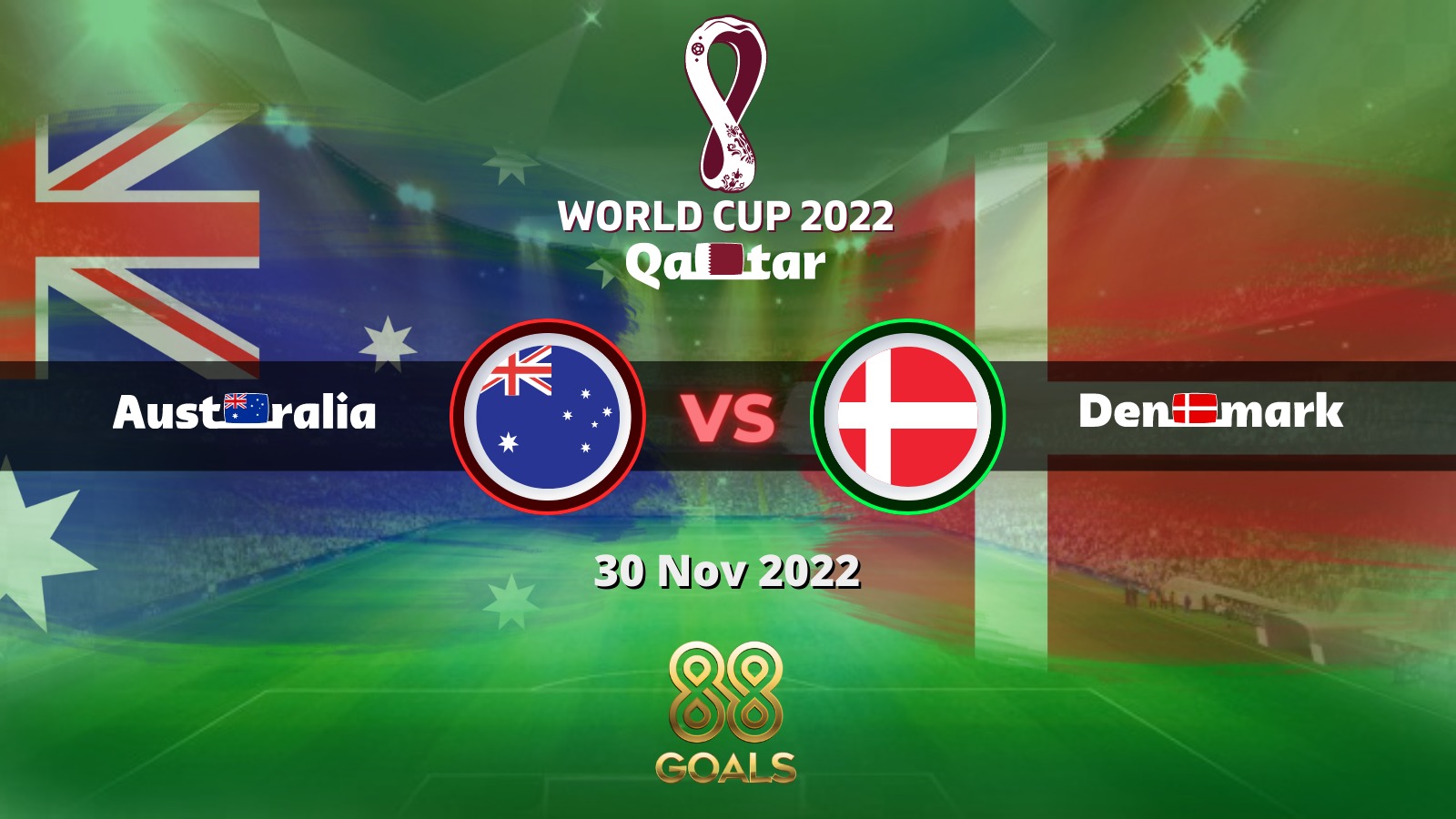 Odds:
Australia 6.20
Denmark 1.49
Draw 4.20
Playing at the same time as the other Group D game on Wednesday are Australia and Denmark. It may not be as exciting to watch the reigning champions make it through to the round of 16, but it is going to be a deciding game in who the other team that makes it to the knockout round will be. While Australia is ahead with three points on the table, if Denmark manages to come out victorious, they'll be sending them back down under.
Both teams have played France and Tunisia, and Australia has managed to secure one win against Tunisia with a 1-0 outcome. However, they did lose significantly against France, with a final result of 2-1.
On the other hand, Denmark hasn't managed to secure a win, but they did draw against Tunisia in a scoreless game, gaining them one point. They also lost their game against France, but they weren't annihilated as much as the Australia game because they only lost by 2-1.
However, although Denmark hasn't managed to play as well as Australia, they are still coming out on top in terms of odds. People expect them to win this game by scoring at least two goals. This may be due to the two teams' history, as they have met four times in the past. Denmark managed to win twice against Australia, whereas Australia only managed one victory and a draw.
Denmark and Australia also played against each other before in the last World Cup in 2018, during the group stages as well. However, we can't base much of this game's outcome on the last one because it only resulted in a 1-1 draw.
In terms of Denmark's players, they do have an impressive squad, including Christan Eriksen and Martin Braithwaite.
However, they haven't displayed their skills yet, so hopefully, they'll step up to the plate in this game and show us what they have.
While Australia isn't predicted to win in terms of the odds, there is still a chance they may shock us. But if you want to stay on the safe side in terms of your bets, then Denmark is definitely who you should settle with.
Betting Tips:
Score Prediction: 1-2 Denmark
Denmark to Win @ 1.49
Poland vs Argentina
Odds:
Poland 8.00
Argentina 1.41
Draw 4.20
After Group D has shown us what they are made of and we know the next two teams who will make it through to the round of 16, it is Group C's time to shine. One of the two games playing at the same time will be Poland versus Argentina, which is bound to be interesting since they are the two top teams in the standing to go through to the knockout stage.
Each team has previously gone up against the other Group C teams; Saudi Arabia and Mexico. While Poland managed to secure a 2-1 win against Saudi Arabia, they also had a goalless draw against Mexico as well. Argentina also managed to gain a win, but theirs was against Mexico at 2-0. However, they lost against Saudi Arabia at 2-1, which is why they have fallen short by one point.
Although Poland is at the top of their group's table at the moment, Argentina is still the team expected to come out victorious in this match. The odds are in their favour, which is undoubtedly due to their previous performances in the World Cup and the fantastic team they have managed to put together.
In the past, Argentina and Poland have played against each other a total of 11 times. Another reason why Argentina is the favourite to win this game is due to the fact they have managed to win six times, compared to Poland's three victories. Therefore the chances of them making it a seventh win seem to be relatively high.
Since the two teams are so close in points, they will undoubtedly be fierce against each other to see who will make it through to the round of 16. If there is a victory in the other Group C match, there is a chance one of them won't make it through. Therefore, we can expect to see Argentina's team fight back more than ever.
Like with any fixture, anything can happen. However, if you are looking to place your bets and have the greatest chance of gaining some winnings, then you will want to bet on Argentina coming out victorious.
Betting Tips:
Score Prediction: 2-0 Argentina
Argentina to Win @ 1.41
Saudi Arabia vs Mexico
Odds:
Saudi Arabia 4.60
Mexico 1.64
Draw 4.10
Last but not least, of Wednesday's fixtures is Saudi Arabia playing against Mexico. While these two teams are at the bottom half of Group C's standings, Saudi Arabia does have the same number of points as Argentina, so a victory for them during this game could mean that they make it through to the round of 16. There isn't much of a chance that Mexico will, even if they win. This will only happen if they win this game and Argentina lose their fixture at the same time against Poland.
Saudi Arabia and Mexico have already battled in the group stage against Poland and Argentina, so we have been able to see how they're performing in the tournament so far. Saudi Arabia has managed to gain three points after beating Argentina in a 2-1 victory, but they also managed a 2-1 loss against Poland. Mexico hasn't been as lucky and hasn't scored any goals so far. They lost 2-0 against Argentina and had a goalless draw against Poland.
However, which is quite surprising, the odds are in Mexico's favour for this game. This is because they have managed to come out victorious many times when they have played against Saudi Arabia in the past. The two teams have had five meetings, and Mexico came out on top with four wins and a draw. So far, Saudi Arabia has never managed to secure a victory against Mexico.
While this has affected the odds, Saudi Arabia has proved themselves in their last two games in the World Cup this year. Due to this, we may be surprised, and they could come fighting to get their first win against the South American team. But if you want to go with the odds with your bets, then you will want to place them on Mexico to win.
Betting Tips:
Score Prediction: 1-0 Mexico
Mexico to Win @ 1.64