Betting Previews & Tips for Dec 5 – World Cup 2022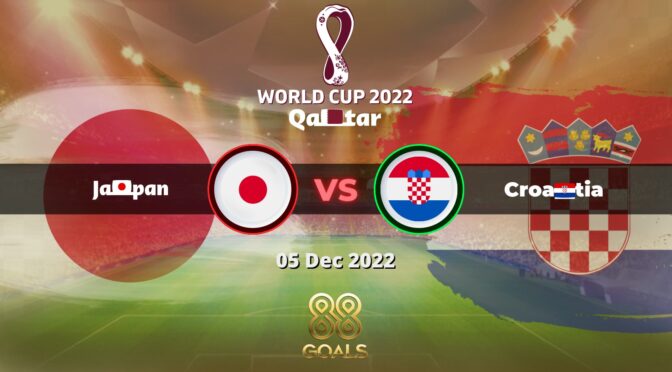 As of Monday, 5th December, we'll be halfway through the round of 16 matches, and it is only going to get more exciting. We've already seen some of the biggest football teams in the world fight it out for the sacred quarter-final spots, and now it's time to see which next two teams will be making it through to the next round of the 2022 World Cup.
The first game of the week will be Japan vs Croatia, which everyone is extremely excited to win. Japan has proven itself to be the dark horse of the FIFA World Cup this year, and it is looking even more likely they could make it to the finals. After that, we have another extremely big game with the world's best football team, Brazil, battling it out against South Korea. But who will be making it through to the quarter-finals?
While many have expectations about who will win each of Monday's fixtures, you can never be too sure. However, there are odds available that can help make our decisions on what bets to place a little bit clearer. We are here to provide you with all the predictions you need for the best online betting experience!

Japan vs Croatia
Odds:
Croatia 1.96
Japan 3.99
Draw 3.25
Monday's games start with a good one. We will be watching the dark horse of the World Cup, Japan, go up against Croatia. While the world didn't have high hopes for Japan during this year's tournament, they have managed to prove us wrong and beat two of the best football teams in the world during the group stages, securing their place in the round of 16. Croatia also managed to show off their skills, so there's no doubt people will be sitting on the edge of their seats during this game.
So far, Japan has gone against Spain, Germany, and Costa Rica. They secured themselves two wins and a loss, but they still managed to finish in first place in the group's standings. The team started off with a fantastic 2-1 win against Germany, and although they lost 1-2 against Canada, they bounced back with a 2-1 win against Spain, which knocked Germany out of the competition.
Croatia doesn't have as good of a track record as Japan, but they still managed to show their skills on the football pitch. They secured two goalless draws against Morocco and Belgium, but they played extremely well against Canada, a team that Japan lost against, and had a 4-1 victory in the end.
But even though Japan has played better than anyone ever expected in the group stages, Croatia is still the favourite to win in this round of 16 games. This could be due to past performances outside of this tournament, though, and Japan certainly has what it takes to come into this game extremely strong.
These two teams have already come head-to-head three times in the past, and two of those were at the World Cup. The first time they met was in 1997 at the Kirin Japan Cup, where Japan managed to win with a 4-3 score. However, in the 1998 World Cup, Croatia bounced back with a 1-0 victory, and they had a goalless draw in 2006. This means the two teams are relatively equal in their past performances, so there is no shock that the odds are pretty similar.
However, Croatia is still more likely to win at the moment, and that could be because they are on a nine-game unbeaten run. However, if Japan makes it through to the quarter-finals, this will be their first time ever, so that they may be fighting now more than ever, especially after their impressive performances.
So, if you want to place your bets on this game, your safe bet is to go for a small win for Croatia. However, the odds haven't been in Japan's favour for their past games, yet they have proven us wrong, so you may want to switch things up for a more risky and worthwhile bet.
Betting Tips:
Score Prediction: 0-1 Croatia
Croatia to Win @ 1.96

Brazil vs South Korea
Odds:
Brazil 1.27
South Korea 11.00
Draw 5.40
While the Japan and Croatia game is bound to be good, many people anticipate seeing how the Brazil vs South Korea game will turn out. Brazil has been ranked as the top football team in the world, so they are the favourites to win the entire FIFA World Cup. Due to that, the odds are very much in their favour. However, we have seen many shocking wins this year, so we can never be sure that the outcome will be what we predict.
Brazil has already played fairly well in their group stages and has managed to secure themselves two wins. They started with a 2-0 victory against Serbia, followed by a 1-0 win when they went head-to-head against Switzerland. However, they fell short a bit when they lost 1-0 against Cameroon. So, although they are the world's favourites to win, they haven't quite shown their impressive skills yet.
South Korea may not have received as many points in the group standings as Brazil, but they did manage to score more goals. Although they started off with a goalless draw against Uruguay, they managed to score two goals against Ghana even though they lost. They also managed to finish off well with a 2-1 victory against Portugal.
However, Brazil is still the favourite to win, and this could be due to the excellent track record the country has against South Korea. The two countries have played a total of seven matches against each other, and Brazil has managed to secure six victories, whereas South Korea has only won against them once.
So, if you are ready to place your bets on Monday's second game, you most likely want to bet on the fact that Brazil will win. There is a slight chance South Korea will come fighting and secure a win, but this isn't very likely.
Betting Tips:
Score Prediction: 1-0 Brazil
Brazil to Win @ 1.27